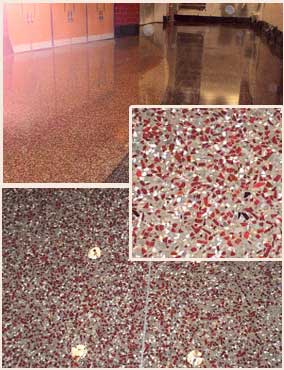 A New Way to Look At:
Commercial Space
Restaurants
Retail Space
New Construction
Terr-Con is an attractive but affordable Concrete Flooring System suitable for high-traffic spaces such as stores and schools. It combines the beauty of terrazzo with the durability of concrete, is long-lasting and low maintenance. Terr-Con can be custom-made per order with a wide variety of colors to match every need.
Terr-Con now also features white concrete, offering you a fuller and brighter range of coloring options.
Terr-Con Decorative Concrete Floors, Inc., produces patented Terr-Con for contractors. Homeowners and facilities managers are encouraged to read a little more about the Terr-Con flooring system. For contractors, there is more technical information.